New Chromebook CX110 for vSpace
Great features, great value and one device for Google Apps™ and Windows® applications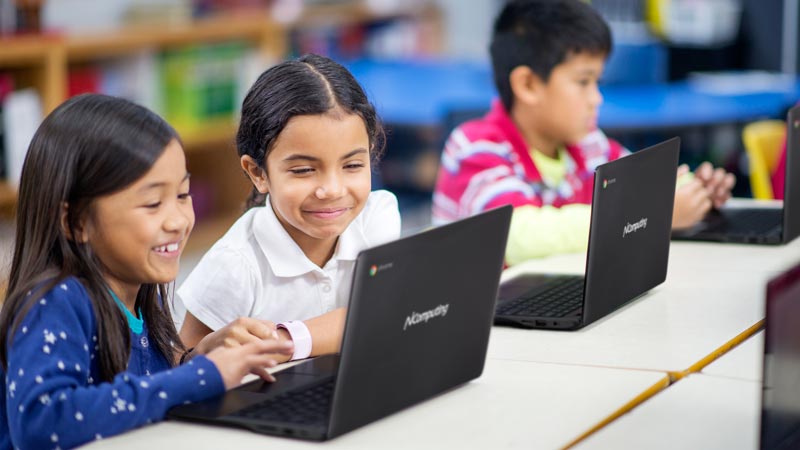 The NComputing Chromebook CX110 provides customers with a simple, powerful and affordable solution for both Google and Windows applications all on the same device. With easy connectivity, long battery life and automatic security updates, the NComputing Chromebook CX110 is the ideal virtualization laptop.
Easily deliver 100s of Managed Windows Desktops to Chromebooks for a Full Windows Desktop Experience

Add Chromebook to your vSpace deployment
When used with vSpace Server, the NComputing Chromebook CX110 and vSpace Client for Chromebook delivers managed Windows desktops to Chromebook for a true Windows PC user experience.
Simplify IT in the classroom and bring flexibility to both teachers and students, allowing access a wider range of rich educational content in an all-in-one device, whether using Google applications, Windows applications or web applications utilizing Java or Silverlight. This combined with traditional classroom learning aids student participation, helping all students have a fair chance when they finish school at being 21st century ready at college and in their careers.
Complimentary: vSpace Client for Chromebook 1-year license included with each CX110 Chromebook.
---

No More Strained Eyes
With the Premium 11.6" IPS LCD panel, there will be no more tired eyes from reading washed out displays.The premium non-glare IPS LCD panel of the CX110 provides for wide viewing angles, excellent colour accuracy and eliminates the readability issues associated with display washout and the severe reflections of glossy screens.
---

Secure and Easy to Manage
Simplify compliance with COPPA (Children's Online Privacy Protection Act) and benefit from built-in virus protection, application sandboxing and automated updates. Your students will be secured from viruses, malware, and other computer nasties.
Take advantage of fewer tickets and better IT resource utilization, reduced deployment times and centralized management to provide the best end-user experience for reliability and Quality of Service. Students and teachers benefit immediately from system performance upgrades, new applications and services thanks to simple centralized updates.
---

Long Battery Life
Enable your students to have a full school day of use without having to worry about recharging. Despite a high-performance quad-core CPU, the battery life can last up to 8.5 hours.
---
---
The Chromebook is our primary computing platform, but our students need to use programs which are only available on the Windows platform. vSpace will allow our students to access applications and content that are not normally accessible from a Chromebook. We even have staff that prefer to use the Chromebook instead of a full Windows laptop because of its simplicity and mobility, and with ability to access important Windows applications they can have the best of both worlds.

Supervisor of Technology and Data Management