vSpace Desktop and Application Virtualization Platform
Radically simple, incredibly powerful and the most affordable to acquire and maintain
vSpace is a fully integrated end to end desktop and application virtualization platform that utilizes NComputing innovations designed to work together to drive efficiencies and cut costs while delivering the features and performance equal to, or better than a dedicated PC user endpoint device.
vSpace is the ideal choice for organizations looking to take full advantage of the benefits of Desktop Virtualization, but do not have large budgets or IT staffs to deal with the typical high cost and high complexity associated with acquiring, deploying and maintaining a desktop virtualization solution, making it a perfect fit for the SME, SMB and education markets.
Powerful Access to Virtual Desktop Workspaces
The vSpace solution approach resolves the proliferation of devices, applications and user needs by creating a centralized resource that puts the power of virtual desktops into IT management's hands. IT can then deliver access to users' personalized workspaces using a variety of devices for a high-quality desktop experience. IT can manage and scale both the infrastructure and the access devices as the vSpace deployment grows.
Key Benefits
An End-to-End, Fully Integrated Desktop Virtualization Platform
Superior user experience with desktop roaming and high performance multimedia
Reduces desktop computing acquisition and management costs
Increases productivity by enabling users to work securely from anywhere with any device
4 million seats deployed, used every day by 20 million users in 140 countries
Unified, centralized manageability for IT
Flexibility and agility for the business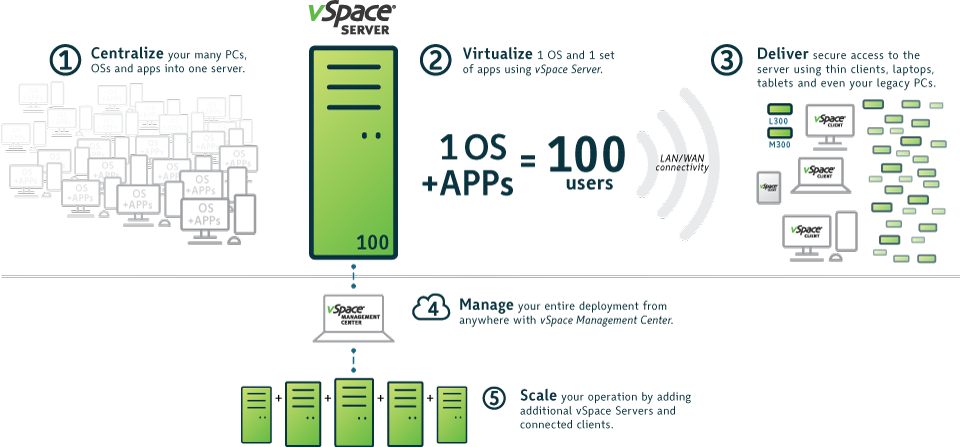 vSpace Virtualization Platform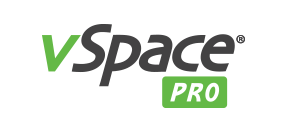 NComputing's patented and award winning vSpace Server changes the economics of desktop virtualization. Delivering the most user density per dollar, vSpace Server supports up to 100 user sessions per OS, offering the most affordable desktop virtualization solution on the market.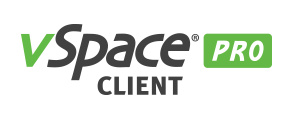 Extend the value of vSpace Pro10 Server to Windows PCs, Chromebooks, laptops and netbooks, including support for mobility and BYOD. Utilize existing PC or Chromebook to access any of the 9 popular Windows Operating Systems, including Windows 10 along with Windows Server 2016 (technical preview version) to deliver a true PC desktop experience.
RX-series
RX-series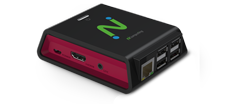 Cloud-ready thin client for Windows and Linux, built on the popular Raspberry Pi 3 platform.
MX-series
MX-series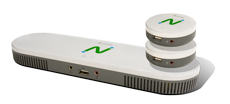 The most affordable NComputing thin client solution. 1 kit for 3 users. Flexible, simple and scalable.
CX-series
CX-series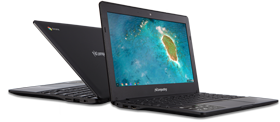 As a solution, combined with vSpace Client for Chromebook (1-year license included), get a simple, robust and affordable solution for stress-free desktop computing for both Google and Windows applications.
L-series for vSpace
L-series for vSpace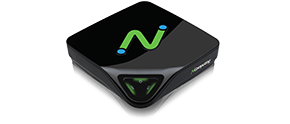 Share one PC or server with up to 100 users. Ideal for use in cubicles and offices in small to medium-sized business.
Support and Subscriptions (SnS)
NComputing Support and Subscription (SnS) programs are designed to give you the resources you need, when you need them and to provide exceptional on-going value driven by our relentless commitment to customer satisfaction.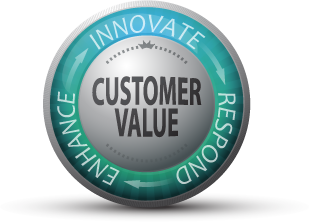 IDC MarketScape Excerpt: Worldwide Client Virtualization Software 2013 Vendor Assessment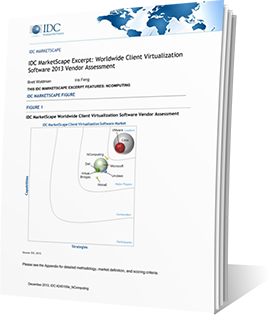 Over the past few years, NComputing has successfully evolved from a device-centric company whose virtualization software platform only supported its hardware end points to a software company with a client virtualization platform purpose built for simplicity, low cost, and minimal IT resource requirements.

Affordable VDI alternatives to Citrix and VMware
NComputing has become an attractive affordable VDI alternative. Read more